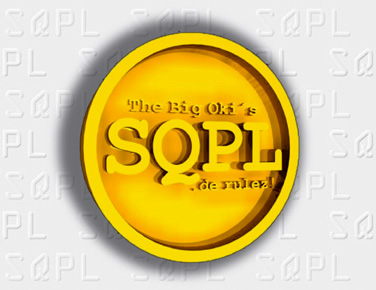 Welcome on REALSQPL to the ÜSA 2008 Report, Part 2 : Day 25-47
Day 25: Memphis to Florence to Nashville

Today it was planned to visit Steve Cook at his shop in Florence/Alabame. He owns the loudest Super Street Vehicle in the world and was the first who hit a 170+dB in a non modified passenger compartement car. We want to meet up at the Sunday afternoon. On my way I got me a big cup of Mac´n´Cheese at KFCs.



Close to steves shop I went by a super market parking lot where a car club held its little sunday meeting. They had some restaurated vintage cars and bc I was good in time, I stopped and walked around a bit. Very nice ones were to see.




Here a real nice one:



After that I drove the about 10 more miles to Steves shop "Audio X". 1st I saw was Danny Britains old Yota sittin´ on the side of the building. There were 2 other buddies present and we had some good talk. I made pictures from the loud car (in my special pose as human microphone also) and some silly ones, for sure :) Steve gave me 3 of his old DD comes what I will take with me to Germany to modify my old Strokers or other woofers. Letz test something. In a Steak House we had some food and talked once more about the good old times and why Steve may not compete anymore. I understand him and respect his decision, even if I would do it different :) Then I startet the 11 mile trip to Nashville!



After checking in and carrying my luggage to the room I drove to Downtown Nashville. Remember, back in 2000 it was the first time ever I visited the states. It was Nashville, and its "Skyline" what I saw first and the smell, the feeling and everything else is what I never will forget in my life. Also the smell of the Chlorine in the water, hahaha. So I drove the old routes and had nice flashbacks. Like coming home. So I try to visit Nashville EVERY year since Finals are held somewhere else. To see the area, the NCC and the people there.



I drove around for about 2 hours! Even in the areas what are not recommended. One plan was to visit the place where something is what you never will see again in the states or around the wolrd. A crossing where Krystals and White Castle is existing in "peace" a few feet away from each other. Well, its of course no big deal, but after knowing the movie "Harold and Kumar going to White Castle", I had to do that also :) In the years before I visited Krystal´s and it was disgusting! But I did research, and animated by that funny movie, I had to do that and bc Nashville was the place of the two "restaurants" beeing close together, I called it a plan. The ultimate security survival die hard "food" experience. But tonight I wasnt brave enough. So I just took some pics and went back to the hotel.





Day 26: Nashville Oki goes White Castle
Today was the Day, the day of the "Slider Burger Restaurants". After the opening of the first burgerstation in 1921 with small burgers in greasy little cardboardboxes, this system became a hit. 5 little holes in a little flat burgerpatty were broiled together with some onions without being turned around. A few years later, Krystals came up with the same thing and offered the centburgers in big values. Called "sackfull". Theres a lot more to tell about the "history", but is youre interested, search Wikipedia :)



Anyways, the burgers LOOK similar, but are TOTALLY different! Funny thing is, that I had hotels in the previos years in the north area of Nashville, very close where the two restaurants are located. I guess 2004 I was already at the White Castle, without knowing the "history". And I didnt like it. Harold and Kumar changed that a little. Since Krystals and White Castle "share America" (Like Hardees & Carls Jr.) , there is this "line of fire" in Nashville and a great opportunity to test both "products" within a few minutes. Its a kind of "Supersize me" test, done by me. Is it really the same? Or is it totally different?






Ok, I drove to the "historical landmark", where East Trinity Lane ends and West Trinity Lane begins. First I visited Krystals and got me 2 sliders, 70 cent each. Took them, warm, and drove across the street to White Castle, where I got 2 sliders also. Both were with cheese. Also I got me some mozarella sticks and chicken RINGS.



Before I "enjoyed" em, I took my photos. Long story short: White Castle made it! I missed any kind of spice at the Krystals "things". The "White Hassles" tastet at least more creamy, bc of the cheese I guess. For both I have the impression, and EXPRESSION, that the ultra thin meat patties are nothing else than "grinded lips and assholes" LOL. There was at least a little bit of taste in the White Castle Sliders. Could have been the grease though...



Anyways, nothing what you have to have everyday. Or every month... From time to time, why not. I wasnt even able to finish all mozarella sticks and chicken rings. But didnt throw anything away! Hotel provided a microwave, so what... I didnt feel so well, as you may see on the pics. But I still went to "Opry Mills" and did my annual walkthrough the big shopping mall outside of Nashville. I wanted to get me some BBQ chicken at the Cajun Grill, but those sliders layed into my stomach like rocks. So I better forgot that. I dont know what food and "non food" together in one stomach will cause, if mixed together. Maybe a big explosion or so...



In the mall it was like every year. Everything shiny, and every year some stores disappear and new ones will come up, for just some years, to disappear then also. During the trip I looked for an old Judas Priest live recording from 1986, but I wasnt able to find it yet. So I searched for tower records, what is, or better WAS located in the mall. But it was closed down also. Dont know how these chops exost, and dont want to know how much people get ruined when having a shop there. Beside the closed record store, was a Barnes and Nobles. There I asked too, but they didnt have the CDs as well. The guy was so friendly to order me the CD to a store in Charleston, where I stay with Dave Downey in the next days. That was a grat thing and I ordered it.



I spent some hours in the mall and visited the HUGE "Outdoor World" again. Another thing what I always will remember from my first trip. When it was going to get dark, I left and drove back to the hotel. Watched some TV and worked on my video files. At least 10 hours of recording were done yet. For every day I burned up to 3 DVDs in the AVCHD format, what can be played with the PS3 in Full HD. 38 Minutes for each disk. So I dont have to buy the expensive BD-Rs.



Guess what? At about 10:30 PM something inside of me told me : "GO TO WHITE HASSLE AGAIN!" Can you believe that? After that horrible experience, going back the same day? So I drove back and satisfied my addiction, LOL. This evening it was planned to met with Jenny (8675309 in the form). But uinfortunately she had to work and it didnt happen. Also I wanted to visit Brad Eubank, a few miles outside of Nashville, but due to time lack, it didnt happen also. Maybe next time. At about 1 AM I slept in. Tomorroy I had a close to 600 mile trip to Charleston/South Carolina where I will spent a few days together with Dave Downey, who invited me to stay at his home also! He moved from Ann Arbor to the south a year ago. He likes the warm weather a lot more...


Day 27: Nashville to Charleston 600miles, Non Stop
Today I had the furthest non stop trip to do. I had several similar distances to drive in the past, but not without having no "via". But this trip is in my memory forever, bc I drove it two times in the past, non stop also. Together with my friend Greg Olivo (Beastwatcher/Team BIO Greg) we brought my red dB Drag car from the port to Nashville, and back. With a top speed of 35-40 miles and the trailer was dancing all the time. Took 24 to Nashville, and 20 hours back to Charleston after the 03 finals. What a horrortrip. But before I started, I went to the NCC again, like every year, and visited my friends Terry Tannery and Mike Dice. They work there and coordinate the shows in the facility. This time they had a show about big road building machines. A little more heavy than our dB Drag Racers... We had a good talk and they asked me when dB Drag is coming back to Nashville. HONESTLY! Also they told me that there will be a new Convention center outside of Nashville. But dont know when it will be finished.



After saying bye to my buddies, I walked the way to the Renaissance Hotel. I spent one week there back in 2004 when I was there for Sony. I let my camera run through the whole walk so that I can save the impression I got, when I walked every morning to the hall where the finlas were held. I also stepped into the elevater, the fast one, and had some rides while filming everything. Aaaah, the memories... Finally I saw the Bar also, where I remember Chris Norris throwing Peanuts around back in 2000. Back then I thought, hu? Are these guys real americans with real american behavior??? Today I know: YES THEY ARE! Hahaha. But these days in Nashville are gone also, and they even renovated the bar and it looked totally different. The Hotel is under a new owner also. Time changes everything...



Leaving the NCC now and going back to the Shopping Mall. At the food court I wanted to get my lunch. Finally the BBQ Chicken at the Cajun grill.Then I left to South Carolina. The weather was very bad in the first two hours. I thought it will be hard to drive the whole distance under such conditions. Couldnt see more than 80 feet partwise. But then it became better and there was no rain at all. So I arrived after 7 hours, what was relatively EASY finally. Even without exceeding the speed limits hehehe. I was more careful now with the speed laws, bc at Mike Hughes I saw a TV programme called "Speeder" and they got a guy with 3 miles more and gave him a 300(!!!) Dollar ticket! WTF???



At around 10PM I arrived in Charleston. I was close to Daves home, he gave me tha address but do you think I was able to find it? It took 10 minutes on my TracFone that he guided me 5 miles further. After finding a McDonalds, I asked him to met me there and drive back with him together. That worked and finally we arrived close to the point I started before, LOL. I guess postmen have a real hard job in America... So we put my stuff on the 3rd floor, where his apartement is located, talked a little and then I moved onto his real comfortable couch. This will be my place for the next 3 nights.


Day 28: Charleston
Today I just had to sort my pics and vids. Dave had to work the whole time. Meanwhile I will stay at his home and do my things.I didnt want that anyone will take off while I am there. I dont need to be entertained and I just want to enjoy staying in the states. Also I have lots to do bc I do my work stuff from the internet also. So it doesnt matter where in the worl I am at. Found out that Daves 42" will work with my HD Cam. I was happy with that and picked the best scenes out to watch them in high resolution. The Hummingbird, Grand Canyon, CES and the other Canyons. Cant wait to see it at home!



So the time flew by and Dave came home at 5PM. Bc I always wanted to go to a KFC buffet, I found one close to the airport in North Charleston. But Dave didnt want to go there. Bad area he said. I was not able to change his mind. So we went to a restaurant where he stays sometimes. (Can it be bc of the nice waitress??? :) ) And I got me at least a chicken salad...



One of Daves buddies joined us a little later and we had some talk about this and that. Later we drove to the waterborder and watched this one, illuminated briddge what goes into Chalreston. Was pretty sweet. Dave fishes here sometimes. Then we wanted to see the new Rambo Movie in the theater at the shopping mall. After searching around a little, we found it finally. Got the cards and TRIED to get sweet popcorn. I just tried it. Just one time when I was in the states, I had sweet popcorn. Kettled corn how they named it. And that was back in 2006... Ok, before I get salted popcorn I better drop the idea of having a snack.The cinema was ok, and the screen relations were like I have it at home. Just 12 people watched the movie (started 10:30PM) so it was quiete enough. I hate it when too much people are present and they are talking all the time...



The movie itself, well, what should I say. From time to time I watch movie in the original language but here it was no problem. I think more people were killed than words were spoken hahaha. War is and stay an international language... After the Splatterfest I watched the whole credits. I do that all the time, to give the folks who made the film, their CREDITS. Its unusual over here also, but over there I got the feeling they hated me, bc I sat there until the end and they couldt get in to clean up. Anyways, with 12 people there wasnt much to clean, even if I thought these other 10 people made more dirt than 100 people. That was the day and we drove home and went to sleep.



Day 29: Charleston, Downtown
The new day startet with sunshine. I thought, today I will wear shorts when I go to the city. But after leaving the house, I recognized that it was everything else than warm. So I got back and put on real clothes. Then I left to the city. First I drove to the bridge what we saw the evening before. The old part of the city is very nice. Old style houses are to see and there was the area where the bloody battles of the civil war were fought. You saw cannons and statues and stuff, to remember the fallen and the other heroes from back in the day.



Of course I went to the port area also, where I picked up my little red car back in 2003. And also I visited the US customs house where the friendly officers helped me with my paperwork. I always will remember that. On my way back I found that military museum where ships and planes and other stuff can be watched. Bc I had not enough time anymore, I decided not to go in and just watch the many things what can be seen from the outside.



It was really cold and windy now, so I decided to drive to Daves home again. Bc it was still daylight, Dave agreed that we will look for the KFC Buffet in North Charleston. Unfortunately it was the wrong day and they had no buffet available :( But the girl told us there is a chinese buffet a few blocks away so that we decided to go there. And it was great. Dont know if Dave ever came back, but at least he told me to do so. A friendly girl taught us in the chinese letter system. APPEARED easier than expected. After some plates we left after a good dinner. And I will have the last night on Daves couch.


Day 30: Charleston to Fayetteville
Got up early and said thanks and bye bye to Dave. Next point on the list was a little meeting with my old friend Paul Nelson, former Extreme world champion with his Omni. We thought it was nice to make an official meeting out of it, in the hope that some people more will come and join us for a nice time. We choose the golden corral buffet place in Fayetteville. On the way I stopped at the beach where Dave is fishing a lot. Was very nice, even if it rained a little. Made some good pictures and saw these bird on the beach. They stood there in a kind of "NASCAR start formation". Of course the wind was the reason, but it looked so funny when they changed the postition from time to time. It comes out very good on the video I took.



The 300 mi drive was relatively easy. Nothing spectacular, except the "ghost driver truck" hehehe. Landscape went more into green again and the blue sky came back. My hotel, the Knights Inn, was located in a not so good neighbourhood. What I recognized later, and after I checked in and saw the room. But ok, its just for the night and it was the cheapest available around. But 60 Dollars plus tax arent cheap at all. Not for such a "hole". Sometimes I think I have to do more research when looking for a hotel in the states. Its not the first time I am in an area what others abvoid in the night. But I took my stuff out and wnet to the golden corral.



On the way there, I saw some more "suspect" people in old cars with 24" wheels. Looked totally...forgive me, AWFUL. I had to take pictures, but was careful that they didnt see me doing that. Can imagine that they would have walked over to me and gave me a funny time. However, now it was buffet time, again. I was the first and Paul came with wife and kids. After that, Ryan from Border Motorsports came also. (On the way to Fayetteville, I passed "South of the border" and thought : What is that? Now I know :) ). Unfortunately these were the only people who showed up. Even if Paul put it on the forum in the hope, some others will join us. But it was Friday and most people still had to work. Even Alan from the Sick Bastards couldnt come, and he works right across the street at circuit city. But I visited him there! We had a funny time anyways, and tons of food. Golden Corral is the place to go! I wish more poeple would have come, but I cannot shedule thousands of miles and make it right to everybody. Sorry for that. It was hard anyways to put this meeting on a friday, what IS close to a weekend.We sat there for almost 4 hours and had our fun. About dB Drag, some cars, some people, or just about the life. At 7PM we said bye bye



After visiting Alan at Circuit City, drove back to the hotel and found the whole parking lot full of cars with full of people in them. I dont even want to know WHAT they are doing there. Everybody looked at my white car and thought I would be the next "customer" for their "business". But I immediately went out of the car, into my room, locked the door, put the cabinet in front of the door (LOL) and switched off the light, hehehe. Next time, this Motel will NOT be on my list!!!



Day 31: Fayetteville to Alexandria
Today there was a 430 mile day again. But in 3 steps. First I want to visit Jay Lovelace and "Tim" William Elderdice again. Jays shop, "Creative Acoustics" is in Raleig/NC and I was there already in 2004. I called the shop first to make sure its opened. It was but Jay wasnt there yet. I took the risk and drove there. It was on my route anyways. When I arrived, just Tim was there. So I talked with him a bit until Jay arrived also. I asked him if he still has some old Strokerparts, bc he builts a lot of subwoofers, and repairs them in his shop. So he gave me some parts, and surrounds from other woofers, so that I can build my old Stroker with DD cone, one day, when I have time, what will happen...maybe never :) After taking some pics, of them, us, the shop, the old competition cars and the, of course never fired up, Death Match Motorcycle, I left for the next stop. Mechanicsville/VA where Mike Bartells has his shop "Extreme Audio".



It was another 200 miles to Mike. But the day was so nice, that I really enjoyed the drive, without being in a rush. When I arrived, Mike was kind of shocked, bc he almost forgot that I want to say hi. But I was lucky to find him in the shop and he took me around a little. Saw his Extreme car, what is almost a "classical design" extreme car without the little pocket what everybody uses these days, and he is doing a 179 something with that. That it pretty amazing in my eyes. Also he has a nice bike, with matching color to the Extreme 3-4 car and his other Show Car, also in the same look. A nice fleet of vehicles. He showed me his TV appearance at Mythsbusters (when they destroyed that old Mercedes and Wayne measured a 161 dB at 16hz) and copied me a DVD with the show.



Now I had about 140 more miles to drive to Alexandria/VA, to my Motel for the next 2 nights. The last part of the trip was the blank horror! The highway exit was closed so that I drove around for almost 45 minutes and couldnt get to the motel. I even drove into Washington (close to the Lincoln memorial) before I was able to turn around. Man I was "stressed". Poor car, had to suffer a little. But finally I made it, checked in and found a room with bad connection to the Wifi Router. For 75 Dollars a night, a really shabby Days Inn. Looked way better on the internet, as always.



Now get ahold of Steve Perla. I want to meet him this evening and maybe Team Basket Kase Brian. But Brian couldnt come so that I went with Steve to the "Great American Steak&Buffet". Steve came a little later than expected, bc that stupid road work is hard to follow, even for domestics. So I am glad that I am not the only one who has problems findinf my way sometimes. But the restaurant let me forget all the anger from my drive. It was so great, I cannot describe. And Steve invieted my as a cherry on top. THANKS STEVE! So I showed him how much a human can eat, when he has a kind of system, lol. I think he was pretty impressed. So we had a good time there and talked a lot, and ate a lot for sure. I think the whole ceremony took 3 hours or so hehehe.



I think the restaurant people started to put the chairs onto the table when we left. But not before I get my Ice Cream coney! Then he drove me back with his Honda (he has stickshifting, what is unusual for me to see in the states). So the day came to its end and I thank Steve again for the inviting. Tomorrow will be another exciting day in Washingtone DC with my old friend and Points Buddy TERRY BROCKS! what will we expect then? FUN ! NOTHING BUT FUN!!!

Day 32: Washington, Sightseeing with Terry und Ray
Today was the day I looked forward for a long time. Sightseeing in Washington DC with Terry. He told me he will bring a buddy, Ray Farmer, what I didnt have the pleasure to meet yet. But he is a real cool guy also! The right company for Terry if I am allowed to say. First plan was to "mess up" some Museums. But the weather was way too nice for staying inside, even if its interesting. So I drove the 10 miles from the hotel to DC and passed the monument and the memorial already on the way. Also Alecandria Downtown is very nice! I wonder how much it is to live there...



Made some pics of the drive. I want to meet with Terry at his Dads house at the "Mass Ave". Well, sure I didnt hit the right "Mass Ave". So I was about 6 miles away from the NORTH Mass Ave... I was glad that I didnt spent too much time there in that area. I think people who saw me there walking around and waiting, were close to call the cops LOL. I also went into a litte side street, what I just will do on a sunny sunday afternoon, and not after dark!



Ok, so made my way back through the city core and found the right street. But no way to find the entrance to Terrys Dads driveway. When your not from the town, its really difficult. So I stopped and called him. After a good while he finally walked by with Ray and we said hi. Next time give me the coordinates for Google Earth Terry ;) But good that I had my navigation system with me. I would have been totally lost. Driving through DV is hell and the people are crazy there. Not that I, as an european, cannot handle that, but it was really hard with the "sunday drivers" all around, and girls going slow and youre not able to pass them bc there are cops everywhere.



Back in 2004 I was in DC already for two days. And I visited Terry 2 times in his shop. One time in the middle of the night, walking right from the bus station around 2 blocks or so. That made Terry wonder that I survived that. Maybe the folks thought that this guy is either stupid or extremely dangerous HAHA. Nowadays I would be more careful, for sure. And as I remember right, Terry and Ray NEVER visited the area where we will go today. The white house, the monument, the memorial and the capitol. And that when you consider that they lived a loooong time there, and have been around there closely.



On the way we had some fun. there was just dB Drag talk and Terry told about his nice life in the "retirement". As I did a few years ago, he stepped back and he really enjoys it. But of course, dB Drag will never let us go completely.



On the way to the capitol I asked an officer where to park. Terry and Ray were kind of confused that I had the nerves for that. But why, cops are there to help the people ;) Ok, maybe for me its not "strange" to drive around with two "black" guys in a white SUV. But some people can get a strange feeling about that maybe, I see that. Sad as it is. Another guy in a sedan was so brave to stop at the street in front of the capitol (towards the monument). As soon as he stopped, 3 police cars went by and checked him for almost 15 minutes. Terry told me that youre not allowed to stop there. Good that HE told me that now, I wouldnt have known that. LOL Then we walked over to some statues, and Terry put his fashionable Points Jacket on the one leg of the iron horse! Man, I dont know what to say, I was always between being very amused and prepaired to be arrested LOL. Even more when he yelled : dB Drag dB Drag dB Drag! :)



But the afternoon was very smooth and nice. No police action was needed haha. It was nice to see that Terry and Ray anjoyed the warm sunday afternoon also! We got back into the car and drove a little further towards the "needle", the Washington Monument. Bc my plan was to walk from the WW2 memorial to the Lincoln memorial, I invited us to a little snack at a hot dog stand. Then I told both of em my plan with the walk.Ray said: Mang, your crazy! And I said : FOR SURE! At the Monument Terry made some funny poses and we made our photos of Terry "holding" the thing. One day I will go up there. But not today. Time was too limited unfortunately. It will be a nice overview from the top!



Now we walked to the WW2 memorial. Every state has its column there and Terry found Maryland. As he stood there and made his jokes, he reminded me a little on good ol Lincoln, LOL. What do you mean when seeing this? Then I had a little work to do before both of them were willing to do that long walk along the "reflecting pool" where some big thinkgs happened in the past. And I dont speak of the scene where Forrest Gump found his girlfriend again ;) Today Terry stepped into the pool, of course. haha.



On the stairs to the Lincoln Monument I put on my camera tripod. While I was concentrating on getting nice shots WITHOUT PEOPLE WALKING ACROSS THE PICTURE, Terry and Ray observed two guys with signs "free hugs". They made their jokes and I just heared it in the background. Didnt pay much attention but suddenly some people yelled and I heard Terry yelling too. But it was more that the people did applaud Terry for his "one man show" about the "free hugs" guys. I filmed a little portion of that. Too funny. Terry explained them folks what will happen to them if they run around with "free hugs" signs in da hood, hahaha.



Then it was time to climb the stairs and see the almost 6 meter high statue of Lincoln sitting in his chair. I filmed and made pic when Terry and Ray disappeared in a corner. I thought there was a toilet or so. After 10 minutes they didnt show up again and I was in a kind of worry about them. So I walked to the corner and saw a lift going downstairs to a kind of museum! WTH! I was there in 2004 and didnt see this! So I went down also and found an interesting axhibition about Lincoln, and of course I found my two friends, peeling in Abes nose and doing funny poses... :) They still talked about dB Drag belongings, what could be heared from almost all visitors in that little Museum, LOL. But time was come to leave and find the way to the white houses garden. The last POI of the day.



Its a long walk back to the "Pin" but we had some company by some squirrels. I still had some corn tortillas in the car, what I really didnt like ( I liked the flour tortillas way more) but unfortunately it was to far away to pick them up for the squirrels. So we tricked then with our blank fingers to get some close ups. Sooooo cute little thingis they are. On the way to the White House, Terry and Ray stopped again at the Hot Dog Stand what we passed again. I continued and got a little ahead of them. I passed some more observators on my way, bc everything is watched and controlled there. But you still can go to the fence what is directly at the white houses garden. On the roof I saw some more guides who watched everything to "secure" the area. But I just saw the guys on the roof a few weeks later when I watched my HD recordings on my big screen at home, hehehe. In that little display, and without my eyeglasses, I didnt see anything from them when I was there.



Meanwhile my two friends arrived also. After Terry was close to throw the Hot Dog paper over the fence to see what will happen, I tried to make a last nice picture from us in front of the White House, before we all get arrested after beeing beaten the hell out of there LOL. But nothing happened and I dont want to know what the guys catched up with their microphones. I think they are still "decoding" what Terry said. HAHAHA !



Now it was 4:30PM and Terry had to find his way back, bc. there was the football endgame what he wanted to watch. Ray was happy also, I guess he didnt walk that much once in a while. But he even told us that it would have been nice to bring his wife out also for today! I guess there will be much more possibilities in the future Ray :) Back at the car Terry wrote some funny things into the dirt what covered it. The funniest thing was of course the "DY by TOR" :) But that is more a kind of "dB Drag Inside Joke".



So I drove back to Terrys dad and finally I saw where I should have gone a few hours before. Never I would have made it! And never I would have been brave enough to go there haha.Terry showed me his new car, the install with the Sony subs and the videocameras on the dash. Now it was time to say good bye. It was a really nice day for me, and I hope for both of them also. Too bad that it was just for some hours. Maybe we will be able to do that once more in the future. I would like to. No doubt. then I drove back to my hotel and got me the ONLY subway sandwich on that trip. After uploading the pics to my computer I was really tired and went to bed.


Day 33: Alexandria to Ohio, meeting whit Sam Horn
Today its driving driving driving again. Want to meet up with Sam Horn in Cleveland. After checking out and putting the destination into the navi, the trip started. On the way to Pensylvania I stopped at a rest area and watched a civil cop doing speed checks. First I want to ask him about some tips and what I can expect for such and such miles more on the speed-o-meter, but I rather dropped that idea. My route was with an about 60 mile detour to Punxsutawney, where the ground hog day was held a few days before. But time was the limiting factor and so I decided not to go there. Anyways I will visit the "real" place (from the movie at least) in a few days when I am staying at Maxxsonics John and we will go to "Woodstock/Illinois". The place where John was born and raised, and what was the original film location.



After passing Pittsburgh and going over the apalaches (where I couldnt see more than 100 feet) I got me some gas and some Hardees Burgers from a special offer. 2 for 3. These Cheddar melts tasted better than they looked :) A few miles away I saw a sign: "Worlds Biggest Big Mac". Of course, in the ÜSA almost EVERYTHING is the biggest and best in the world, but that was getting my attention. It was a McDonalds Museum with a big plastic Big Mac and some things about McDonalds and the history. I think to remember that this restaurant was one of the first restaurants of this chain. 2nd or 3rd. Quite nice, but I just looked and didnt buy a Big Mac. I guess I am not the worlds biggest fan of it, even if I have one from time to time. Okidoki, another excursion in american history was left behind me.



So the miles flew by and I passed more and more hills. With and without snow. After passing the border of Ohio I saw a truck driver what had a real interesting way to secure his load. See the picture. No comment. After my navi guided me to my Super 8 Motel, I called Sam in the hope that he is there soon, bc I was hungry again. The weeks before I chatted with Emily and thought he will tell him everything about my visit. But for some reason she messed it up a little. (No problem, I forgive you Emily, but it was sad that we couldnt meet together!!!) After reaching Sam, I knew he was just on the way back from a job he did. But it would take one hour more to get to me. But better than cancelling the date. At 8:30 PM he picked me up finally.



Dressed like a Tennis Ball (see pics of the next day) he invited me to the Outback Steak House where I got another Filet! Man, I owe Sam now....I dont know how much...the list is getting longer and longer... First the Steak in 2001 and then the story of borrowing me his "VW Thing" for Bass Race in 2005 (oh boy, dont remind me in this horror story). And much mire. I always will remember that Sam! Youre the man! And we had a nice evening with interesting talks. The food filled me up good so that I had to "tune" my belt a little, hehehe.



Day 34: Ohio to Michigan
In the morning I had my "healthy" muffin already when Mr. Sam "I look like a Tennis Ball" Horn picked me up for a "gyro breakfast". I first understood "Euro Breakfast" and had no idea what he is talking about. What do I need a Euro Breakfsat? I have that the whole time here LOL. But he meant GYRO what is just pronounced like "euro". We have that also here, called "Gyros" and is pronounced totally different, maybe like you say "Giros", I dont know LOL.



However, after taking spy pics for a gay magazine (thats what Sam explained to the owner) I had a good 2nd breakfast. Sams nephew and friend joined us. So we ate and talked a bit before we went our own ways. Thanks again Sam for some nice hours, and of course some more invitings. I hope I can pay it back one day. And dont be angry about my Tennis Ball analogies :)



Today I had to drive about 180 miles and had 2 dates before I reach my destination at Bruce "BigNoiz" Dressels house, where I will spend the next 4 nights bc he invited me. First I had a short visit at the Cleveland IX Center, where we had one world final in the years vefore. Weather was cloudy, snow already melted away. But at least I saw it and was there again. Now I moved forward to Toledo where I will visit the Kinetik guys in their office and storage building. I informed Pat Szeman that I may say hi for a short while when driving through the city. I like the Kinetik guys very much. Its always really funny with them! I enjoy the company every single time. Great guys! So I stopped by and said hi. Of course I took pics and we even worked a little on a funny thing. Never was informed if it "made it through" so I cannot talk much about it :) But it was fun...



After about 2 hours I left Kinetik. Now Jay "Pornstar" Thomson´s Pizza place was on the list. He and Asia were there and before I called em to order my "Oki Special Pizza". I have a favorite Pizza place here, Johnnys Pizza Kitchen. He is native american and he makes american style pizzas. They are well known in my area and lots of my friends like em too. So I ordered the "DeLuxe" in the "Vitos Pizza" Version. Great that they do that for me. Even if I didnt know that they put parmesan in the crust, I liked it very much. Next order will be extra without that cheese. And I didnt know that they have "Paprikasalami", what they call "pepperoni". So Ver. 2 of Okis "DeLuxe" in Vitos Style will be perfect :)



Asia and Jay talked a little with me before I left to Bruces house. Didnt eat up the whole thing and left some slices over for Bruce. But it tasted great. I wish we would have a Vitos Pizza here too. Not that I will leave Johnny, but just sometimes :) And Vitos makes fair prices also. I just can recommend that place, hehe. Enough advertising now... About 80 miles were to drive to St. Clair Shores where I will stay in the next days.



It started to rain very badly. Took my 1.5 hours to reach Bruce. Wasnt a funny drive. Back in 2005 I visited him already, but he was out of his home and so I missed him. I had the luck that his mother was at his house and checked it. So she opened and talked to me. Funyn thing was, that she is native german and lived around 25 miles from my home! She moved a long time ago but we talked about the area and she started to trust me at least a little. So we called Bruce back in 2005 and he told his mother that she should let me stay for two nights in his house. First she was not sure, but we got that handled and I still thank her for that. So I stayed in Bruces house totally alone. Just the two dogs, REAL DOGS, were outside in the driveyard. But this year Bruce was at home and we will spend 4 nice days in St. Clair Shores. No hurry, no plans, just enjoying ourselves! He even gave me his bed, what was connected to the living room without a door. Ok, the "little doggies" made me a little nervous. Bc. sleeping in basically one room with em, not very comfortable with me! So I took the unused Port of Bruces Truck (remember he owns a MTX Jackhammer, so this port is a MONSTER) and put it between the door opening. It stayed for the next three nights hahaha. But I must say that the dogs, even if they have more power than they know of, were VERY nice and good educated! They behaved really good and NEVER made any problem! So in the last night I even put the port away! But for today, the first night, I slept with one eye only :) After talking a bit and having a good night drink (Bruce took a WARSTEINER and I took a Rootbeer on the rocks) we went to bed finally.



Bruce schlief aber im 1. Stock und nahm einen Hund mit. Den anderen Hund hat er in den Keller geordert, welcher aber im Durchgang zur Küche OFFEN blieb. Nur 2 Plastikeimer wurden da vorgeschoben vor die 2 Treppenstufen, und der Hund stand mit seinen 2 Vorderpfoten drauf, sprang aber nicht drüber, denn er hatte gelernt das er dann in Schwierigkeiten kommt. Und tatsächlich funktionierte das. Er machte nichtmal den Versuch drüberzukommen. Hätte aber genug Kraft um die dreifache Höhe zu überwinden. Alles in Allem muss ich sagen die 2 Hunde waren zwar die "gefährlichste Rasse" die mir so untergekommen ist auf der Reise, aber die waren mit die liebsten und bravsten. Nur manchmal sind se halt vor lauter Freude rumgesprungen und rissen so Alles mit was ihnen in die Quere kam. Die haben einfach keine Ahnung was sie für ne Kraft haben. Ab und zu ein Leckerchen fürs "Wuffche" und aufn Kopp getätschelt, dann war Alles wieder gut. Nunja, also haben Bruce und ich noch bisschen erzählt bis es dann für die erste Nacht in die, für mich noch ungewohnte, Heia ging. Diese 3 Tage sollten eigentlich nur entspannend werden. Keinerlei Plan, keine Hektik, einfach nur relaxen...



Day 35: Day 1 at Bruce in St. Claire Shores/Mi
I survived the night without any "Dog Attack". The "Wooffers" were really faithfully what made me happy. At around 8 we stood up and found the "world" with a nice powdersugar coating. It snowed a little in the night and finally I had my white winter paradise to use my 4 wheel drive. First we had some pizza what was left over and then we started the day easy going. A friend of Bruce, Jimmy, visited us and we talked a bit. Of course I had to explain the "Autobahn", the paradise what is not really a paradise and the non existing speed limit more a myth than a thing what you can use the whole time. Btw. I heard Monatana or so has no Speeed limit also? That state will be included in one of my next trips.



We played a little pool billard in Bruces living room. I used my special technique what let the others smile. Sometimes I even won a game, but not bc I was so good, but bc the others put the black 8 in the wrong hole LOL. Then Bruce showed us his MTX Jackhammer SPL Reconekit. That thing was esspecially made for him. And if you just see it without other speaker parts from other brands, you think it looks ok. But if you would compare it with them, the others would look like toys beside this monster. Bruce has the Jackhammer installed in his worktruck. In the next days I want to see that thing closer...



Time went on and daylight faded away. This evening we have been invited to Bruces parents for dinner. I looked forward to the 45 minute drive through the snow. It started to snow more before we started our trip and I became more and more happy. Dont know about Bruce and Jimmy, bc they had to drive with me. And they didnt know how such a crazy german can enjoy such a weather with a 4 wheel drive ;) It was just a 10 mile distance, but we needed 45 minutes as mentioned. Not bc I am sucking driving through the winter, it was more about the other people without proper winter tires. Also my SUV had these stupid electronic gizmos what kept the car away from the "controlled brakeout by Oki" the whole time. Beep Beep Beep. All the time. I hated it. But sometimes I had small slides, and my two friends some scary thoughts I think. Sorry for that buddies :)



We arrived in one piece and entered the warm apartement of Bruces parents. We had "Sauerbraten and Rotkraut". If you want to know what this is (kind of german authentic meal) get your own translation LOL. I dont know how to explain. Maybe Bruce can help me. But it tasted delicious! After that we had some sweeties like "Ferrero Rocher". This is german product also and I had a few. A great Dinner! Thanks Traude! Btw. she lives in the states for about 30 years now and she still has a similar accent like I have. Well, and I dont hide it. Isnt that funny? Bc she comes out of my area "Hessen", I introduced her to my friends side www.zwansisch.de where she can find every day stories written in our "slang" what we speak over there. Maybe a little memory on the old home. There was also a kind of short report with pictures of my trip, what my friend Jürgen put into his site after I sent him the pics and some words. After 2 hours or so, and after a real good meal, we said bye to Traude and Sam and made our way back through the snow.



It snowed more while we were at the dinner and I took some nice pics of the area, covered with snow. And now we just needed 20 minutes for the way bc not much people were on the road anymore. I liked that better than before. That also caused that I drove a little faster, for the pleasure of Bruce and Jimmy ;) I learned to trick the electronic with the manual brake what let us slide sometimes. Said bye to Jimmy then, put the dogs in and went to bed.


Day 36: Bruce Day 2: The Billard Party
Today Bruce invited some of his buddies for a billard evening. Jason Muns, an old friend of mine, tried to make the trip also to have a fun time with us. In the morning Bruce had to shovel snow first. I couldnt help him bc I had to sort some pics for my report LOL. Then we looked at his worktruck with the Jackhammer inside. I dont even want to know how much gas this monster is taking! The sub is huge and we let it play a bit. Very impressive. Too bad that Bruce hadnt the 2 Maxximus connected, but it was already very loud inside with the little 1000 Watt Amplifier. The cone barely moved...



After that we went to the grocery store to get the stuff for tonights party. Snacks, beer and so on. On the entrance I couldnt resist to sit on "Fred Firestones" Vehicle, what stood there for the kids. And bc I am a big little kid, hehehe. After collecting stuff for around 120 Dollars we drove back home and prepared the party. They even had some little snacksalamis like we have here, called "BiFi" (pronounced and meant like "Beefy") and a similar "Sourdoughbread" like we have over here. After that long time away from home, a little reminder for me. Then a little pickle together with that, and ready is the snack.




Around 5 the first guys came. Also Jason Muns was one of the first ones. We spoke about the dB Drag situation in general, and about holding and planning own shows and how hard it is to get the needed money and help together. But we try hard to move it on. The others came in and we played some pool matches. Of course they had fun watching my own style of playing, sometimes with big eyes when I hit the holes! The doggies ran around the whole time also and I didnt even recognize them anymore. Really nice pets they are! We had a great evening and nice talks. I showed some of my many pics and cideos what I carry with me the whole time. They are always good for big laughs. At around 10 PM the first guys said good night and one after the other left. Bruce and I went to bed early, even if nothing big happened today.


Day 37: Bruce Day 3: The Zoo
Today the night brought us some more white coating. While I made some sandwiches, Bruce had to get some spare parts for his truck. Outside I saw some squirrels jumping around and put that to film. Also I saw a "Cardinal" bird in front of the living room window. That reminded me on my wish to visit a Zoo. Long time ago for me. Ok, its wintertime, but Detroit has a Zoo and I immediately switched on Google Earth to plan our day :) Also I included a trip to "IKEA" the swedish furniture what you have to put together by yourself. Sometimes great design and its good stuff for the money. Bruce never was there, neither was Jimmy. So that was our plan for today.



At the Zoo I wanted to film some more hummingbirds. After finishing my sandwich "build" we startet at around noon. Well, Detroit is not the nicest town in the world and I hope nobody who lives there will hate me now. But there are some nice spots what I was shown by Bruce and Jimmy. Of course very exclusive and expensive. We saw some really nice luxury homes and on the other side of the street, we saw some old sheds. What a contrast programme again. At around 1PM we arrived at the Zoo.



It was veeery cold this day and some snowflakes made it to the ground. Bruce was so kind and carried my tripod so that I was able to put my camera into my jacket. First we entered the "reptile house" and it was sooo warm inside and moisture. The whole camera lens was steamed for at least 10 minutes. LLizards and snakes, turtles and all that stuff could be seen there. Then back outside we saw some deers and really funny "animal" what jumped around in the snow. And, yeah, what a surprise! A SQUIRREL! How nice and cute! A SQUIRREL in a Zoo! Who would have thought about that! AMAZING :) At the "Ape rock" we some of the apes lousing each other. What else should they do in a white boring winter when no visitors are walking around. We were almost alone, just a few people wlaked through the Zoo and one pair of girls even took a tour with the little Zoo tram! Interesting how lazy people can be. Then we saw a Tiger sneaking around inside his fence. I guess he smelled us long before we saw him and he thought, maybe good to have a snack between the meals ;) Looked really majestic. Dont even know when I saw a living tiger the last time. In TV yes, but in real?



Around the corners we found the ice bears. Big Willy (how I named him) was on patrol the whole time. He didnt look very impressed or amused. I guess its very boring for such an animal to have nothing to do. But how can we change that? At least he will not have to fight against beeing hungry, or being on search for food... In the Ape house we saw the big silver back gorilla. Also laying around on his silver back, scratching his nipples the whole time and being bored. In the next days he should find a new home in another Zoo. Thats what a guy told us.



In the same building there were also a bunch of chimpanzees what jumped around and made a lot of nonsense to each other. Had a little discussion with Bruce and Jimmy if the gorilla is really the gorilla. But hey, I know a gorilla when I see one ;) Meanwhile we went around the ice bear area and we were heading towards the birds house, what was my original destination. Some places what were for other animals, were occupied by lots of squirrels during the winter. But also lots of fun to watch these little thingis.



Suddenly a really loud and strange noise from above! Gooock gooock goock straight into our direction. Then a big shadow and we saw something flying towards us. A peacock what was "flying free" in the Zoo barely hit us during his "landing" and Jimmy made a big jump out of his way. I just tried to grab the scene with my camera. But it was hard without being prepared. But we were pretty shocked for a seconed. Then the peacock wlaked around between us and I think he expected some food. But bc we didnt expect a hungry peacock, we had no food available hehe. He was really huge and he came close to us in the hope to get something to eat. Soon he saw that we had nothing in our hands so he want onto the little hill towards the ice bears. There was a kind of ditch between the bears and the walkway and with the rigth angle, what you can see on the pic, you just think there is nothing between the bird and the bear. I think the bird exactly knew about that, or he wouldnt have been so cool and relaxed :) Imagine a hungry ice bear running towards you, and nothing between. Time to send your last prayer to wherever you belive it belongs to...



After that fun we came closer to the birds house. Basically we could have started our roundtrip there, and not from the other side, but now it was a little later than expected and we started in the other direction. First there was an architectonic house what I saw and what was very attractive to me. Inside there was a kind of exposition of animal photographies. I just made some pics of the pics, what were really amazing, and put them into here without a commend. Also we saw pics of HUMMINGBIRDS hehe.



Time went by and we ran a little late now. Zoo closes at 4PM!!! DAMNIT! So hurry up and go to the birds house. It was a 2 area observation building and first we found the "big birds" like parrots and so on. Was nice, no doubt, but when we arrived at the door to the "ultralight birds" and butterflies, it was closed already. NOOO! I was sooo sad! Jimmy started to run around the building, knocking on some windows. I always remembered my Santa Monica Beach shot of the hummingbird and now, so close before, we couldnt enter the building...



After accepting the fact, suddenly Jimmy popped out of the entrance door with a big smile in his face. HE MADE IT! He found a (by the way nice looking) girl what worked there and told her about my pity and wish to see the little birds. She was so nice to let us in for 5 minutes, even after the official closing time. THANKS JIMMY! YOU SAVED MY DAY! So I started to "hunt" the flying things with my camera. Unfortunately I couldnt "catch" em. Just a few butterflies and all the time when I saw a hummingbird, it was gone before I had the camera in position. And Jimmy just sat around, watching me hunting butterflies, and then a hummingbird almost crashed into his head. Hahaha. What a luck! Well, at least I was able to film spectacular 3 seconds of a hummingbird in slow motion. That was all what I got after 4 hours in the Detroit Zoo. But I was happy as heck and we could leave the Zoo now in peace.





Ok, we finished our Zoo visit and drove to IKEA. Not sooo much IKEAs are to see in the states, but it grows and I think when I come back in 2010, I will see some more. Its like an invasion with these blue buildings with yellow letters... After the 15 miles we arrived, and as mentioned, Bruce and Jimmy never have been there. After the first "Demo Rooms" they were amazed and we tested the seats, chairs, couches, desks...



I think Bruce collected a ton of new ideas for his home. Even if you buy nothing at IKEA, you get something what helps you. We had about 2 hours fun there (cheap fun hahaha) and then we visited the restaurant where we ate also cheap and good. Unfortunately they dont import the swedish "Lant Chips" (Potato chips made in a special way, like kettled chips). I like these chips a lot and I have them at home from time to time. But I got me a 50 cent Hot Dog, and Bruce too. Funny thing was, the sign what advertised them had a little note: Not actual size! Hahaha, AMERICANS ! Where else in the world you can expect such a note. But I am sure that there would be somebody who wants a 10 feet, 2 ton Hot Dog, just because the sign says it. And before he sues IKEA for that, they better put the note on that :)



Then we left the building. Bruce didnt like the Hot Dog and he got some stomach trouble after eating it. My stomach liked it very much, hehehe. We had a 30mi trip home and I needed some gas. At the moment I wanted to leave the highway, Bruce and Jimmy started to act like crazy and yelled : Dont go out here! This area is bad! and so on... Heck, I always stop somewhere when I need something. But having some citizens with me, I did listen to them. In th epast I was not careful enough when I travelled the States I think. Also I saw that this year the first time after telling my stories to my friends and seeing them almost scared when they hear what I did. (Also walking around in Terrys neighbourhood in the night). So I passed some exits until Bruce and Jimmy calmed down and were cool again :) That was my indicator to leave the highway. I guess theyd rather ran out of gas than stopping in an area where its not safe enough. I dont know what it is, maybe its paranoia or its really that bad. But we survived and got our gas :) Back home Jimmy said bye and Bruce wanted some parts for his Lincoln. Tomorrow we will go to Jays (Pornstar) house to have another funny meeting with some dB Drag fellows. He wanted to drive with his nice car, but he had to get something for the long drive. At the shop I saw this "Motor blender" aqnd thought: "what the heck is that good for???". I didnt know exactly what a blender is, just from the song "blender" from Yello, but this thing was too crazy, no doubt! A party blender with a little 2 stroke engine! Welcome to America! ;) After coming back, we went to bed early bc we had a good drive tomorrow on the way to the "Toledo Pizza Massacra!" where we will meet the baldmans also :)


Day 38: The Toledo Pizza Massacra
So, for today we sheduled a nice meeting in Toledo at Jays house. It was planned long time ago and we expected some people. I packed my stuff together, bc it was also the last day at Bruces house for me, made some more sandwiches and said bye to the doggies. Bruce followed me with his car. Byebye St. Claire Shores. I try to come back. And thanks Bruce for all the hospitality and the great time with your friends and family. We had around 90 miles and drove through Detroit, what made not a nice impression in daylight. Everywhere lost facilities and so on...



At about 2 pm we arrived in Toledo. We were the first ones and said hi to Jay and his family. They watched TV and we started some nice talk about this and that. Jays cat found a new friend in me I think, and the dog was so happy, that we had to put him away, LOL. Can be that he smelled Bruces dogs or so :)



Some more people arrived and the room was filled up step by step. Asia, Jays daughter, and Jay himself took out their violines. Right, the get violine lessons. I think that is great. I made some jokes and called it "the fiddle" what drove Asia insane, but I was just kidding and I have big respekt for both of them. Jays fiddle...eerr I mean violine, is a very old and expensive one and comes from old eastern germany. And as captain of team naptime, he mostly sleeps when violine school is in lesson and Asia is learning LOL. But I must say, he hits the tones pretty good for that he sleeps so much. Maybe Asia should take a nap also from time to time. :) At the end I tried also to play a little melody. Dont know how much of a torture it was for all the other people around. At least I made it finally with "Ode to Joy" and I guess everybody was glad that it was over then :)



Meanwhile it was around 6 PM and also Team Baldman arrived piece by piece :) John started with the "Baldman Punch" and I was "amazed" just by watching what all went into the pot. Dont even want to think about the taste. But I will never know, bc I dont drink alcohol anymore (since end of 1991!!!). All others seemed to enjoy the punch. I guess we were about 15 people to that time and the house was pretty full. At 7PM the pizza arrived! AAAHH!!! Finally my "Oki De Luxe" with everything I wanted, and not what I didnt want, if you know what I mean hehe. It was great but I think I ate more of the other pizzas like Chicken BBQ and all that combinations I never heard of. It was great! Thanks to Vitos (or I call it JAYS) Pizza! I wish I had such a place over here. Well, we have Johnnys Pizza, what is great also, but Jays will be the perfect addition... He even thought about the "Sauerkraut" and whatever pizza. I doubt that I would have been so brave to try it. But you never know before you try it, maybe its top notch!



We ate up every little bite of the pizzas and continued with talking, drinking, laughing... Also we talked about the recent finals and how times have changed. So bc I have almost all pics with me all the time, I connected my notebook to the 50" screen from Jays parents and we watched a "little" (sure a few THOUSAND) picture show. Also from my actual trip.John Hone suddenly said : "Oki you bring back so much good memories!". That made me really happy. Also the fact that I showed them places where even they never been before in the states.



Well, it was 3AM in the morning now! We had such a good time together. Then I became a honorary member of team baldman (hey, I still wait for the t shirt) and all that without being bald!!! :) But I am on my way :( John amused the people with his magic tricks! He can make that air stinks and people get dizzy! AMAZING! Good that I was on the other side of the room where the ceiling vent protected me from the biggest part of the "shockwave" :) But one girl was a little too close to John and started to run away, holding her hands in front of her face :) A great magican John is! He should go to Vegas with his tricks, haha. And Asia slept like an Angel. Ok, maybe like an EEEEEEEEVIL Angel :)



Now it was 4 AM and finally Team Baldman started for the trip back home. Amazing, the whole house was still standing and nothing bad happened. We had some bad expectations wehn we planned the meeting, but everything went smooth hehehe. JUST in the last 10 seconds there was a little shocker. They startet a little "fun fight" (dont know how to explain in english, its like friends messing around with each other) but the situation calmed down quick and we were all glad :) So they startet the engines of their big diesel trucks and drove away. It was a great evening with great people. Thanks to all of you for giving me the feeling to be a part of you. Next morning I had to do a 350 mi trip to Fort Wayne to see Chris Norris, and after that I will do my final trip to Chicago, where I will spent almost a complete week at John Studleys house! But I was afraid not to get enough sleep. It was almost 5 AM when I finally went to bed and I had to get up early...



Day 39: Toledo to Fort Wayne to Chicago
Not even 2 hours later I was awake again. Some noise was going on. During the night, the electric wires over the streets broke together. There was no power anymore and everybody was running around, some workers tried to fix the mess and so on. So I stood up and watched the people doing their job, and the sun rising...



Asia and Jay were up also and we had a cup of coffee. Then I said thanks and bye bye to them and was on the way to Chris Norris in Ft. Wayne. It was about 120mi to drive and my navigation system sent me into the wrong direction first. Had to do some "orientation circles" like a dove before I was on my way :) It was bitter cold today and my windshield washing system didnt work. Totally frozen. So I had a real bad trip through bad sight. Sometimes I drove through a snowstorm. But 30 mi before Ft. Wayne it became better.






So I drove around and searched for Chris house. The addresses in the States confused me again and I entered the driveway of 601 but Chris has 610! (I mixed that up). Before I went outside I checked it with my notes and was glad that I found the mistake, before I knock on a foreign door and get shot :) So I startet the car "quietly" and drove across the street, hehehe. In the driveway I saw Chris with 3 of his boys jumping inside his truck. They wanna get a haircut so I drove with them. On the way back we loaded a bunch of Arbys sandwiches. Yes, such a big family has a lot of needs!



Back home the kiddies jumped on the meals. Talked with Chris a while about this and that. Most people may think he doesnt care much about others. But I have to correct that! I know him as a totally friendly (but crazy) and helpful guy. Also he is a very good father and a family man! He has just sooo much to do that his time is absolutely limited. So folks, please understand when he has not all the time to post some pics. He really cares a lot, but its just too much! Ok, I had about 280 mi left to Chicago where I will have the last stay of my trip at Team Maxxsonics Johns and his wifes home. Said thanks and by to Chris and his family and was on the way.



Bc I was still axhausted from the long night and the less sleep I stopped for half an hour on a rest area and closed the eyes a bit. But the car became really cold and I couldnt sleep anymore. Just about 90 mi to go so I took my cell phone and wanted to give John a short call that I am on my way. AT THIS MOMENT John called me! Perfekt timing! He got me the tip to the right route, to save time. So I filled in the right amount of gas so that I can give back my car really empty the next day :)



Had to fill in some "drops" before Johns house. It was so cold at the gas station that I wasnt able to breath in the wind. About 10 minutes later than sheduled I arrived at Johns house. He and his wife Melinda were waiting and John opened the door when I drove onto his driveyard. Everywhere snow aside the streets. Really high. Its a long time ago since I saw such a thing over here. So we put out my luggage and talked for some minutes. But I went to bed very fast bc I was sooooo tired. I got my own sleeping room (Johns nephew is in there usually). That was great and I felt home from the first minute! This will be a real nice last week in the Chicago area!


Day 40: Chicago Day 1 Monday, Rental Car Return
This morning John surprised me with a real american breakfast! Turkey-Ham´n´eggs and pancakes with the "real" maple sirup. I slept like a baby and was "topfit"! Finally my miles hunt found an end and now I was looking forward to a week of relaxing and easy going. If I only could do that more often. Stay at friends in the states for more than one week at one place!



Now we brought my rental car back to the Chicago airport. There we found a chaos of snow and cars and nobody knew where to go. And as usual, trouble with the final invoice! These stupids suddenly charged me another 800 Dollars and I dont know for what, till today. Next ÜSA trip I will look for a different rental car company than National/Alamo. Even if its more expensive. During all the years I left THOUSANDS there and they Fxxx me up ALL THE TIME with unexpected costs! Sure, its my own fault when I go to them again and again. But the one way fees are so low, LOL... But 3000 Dollars all in all for renting a SUV for 40 days? (Gas not included)...



John had to take his BMW to the service check. Took a little longer than expected so we stood around there in the "german Autohaus" and looked at some cars. The RS32 Golf 5 is 36 000 Dollars with tax included!!! WTF??? We over here pay way over 40 000 EURO!!! What is converted up to 60-65 000 Dollars. Time to move to the states??? Funny also was, that there were no datas about the HPs! But a kind of line where the car stands in the gas/mileage. :)

We start to become hungry and an employee of the service station drove us to a restaurant. It was "Portillos" and was a "Gangsta Bar" back in therecession days. Nice decoreation around and good eating. Its also a kind of restaurant chain around Chicago with mostly italian food. Ben from Kinetik gave me the tip to go there one day. Good idea! It tasted good and I had my first Spaghetti Pomodoro in the States. Then the employee took us back and Johns car was ready to go.



Daylight was fading already and we went to a shopping center. My cousin was asking me for bringen him a "Gerber Tool" and his wife asked me for a university of Illinois shirt. Unfortunately we couldnt find any of these items so that we drove back home, after doing some funny photos of course... That was our first day, and the cherry on top was the dinner what was made by John an dhis wife. Steaks, baked potatos and a good salad!


Day 41: Chicago Day 2
Nothing much to report today. Slebt til half past ten and got a nice shower. Made me some breakfast snacks out of my still existing "base" of food what I carried around with me the whole time. Oustide it was snowing like crazy. John had to do something in his office so that I was on my own.



But I had to do a lot. Burn some DVDs, type some lines for my report and so on. Around 6 PM John and Melinda came from work. We had a kind of pasta with tomato sauce and meatballs with melted mozerella on top. For dessert some homeade cookies. DELICIOUS!



Today I stepped on the weightscale for the first time in 3 weeks. Hm, it seemed that I just gained 4 pounds in all the time? Could that be? If yes, GREAT! If not, hm... But I felt like it would have been more. Anyways, I was in a good mood and got me another Root Beer Float!



Day 42: Chicago Day 3
Today John had to work also. I arranged with him, that he will pick me up for lunch at around noon. WHAT A LIFE :) Slept long and did some work on my notebook. Outside it was sunny and the fresh snow was very bright. A great view. Around noon John picked me up and we went to one of his favourite Lunchplace where I had salmon with a pepper crust and rice. HMMMM!!!



After that we went to the sports center. Not to do sport, but to get the items for my relatives ;) But after looking for these things at the 3rd shop now, we still havent found what were looking for. Just a long sleeve shirt what I made a picture of first, to be sure.



Then we went to the Maxxsonics building and I suddenly found me in an empty work area with my computer :) So I was able to type on my report while John was doing his job. Also I had internet and so you can leave me alone for hours :) John showed me the new big building. 3 years before I was at the old building but John was gine. Crazy! This company grows fast like hell! Of course with such good people working there! They also have some saltwater quariums with many funny fishes in there. But for today the automatic timer dimmed the light so that I had to watch them another day.



After that we went back home . Melinda had to work longer and was tired. So we decided to order BBQ chicken at the BBQ Brothers. With cole slaw and potato wedges. baked beans and corn bread. Then they watched some tv (the base ball doping scandal) and I worked on my computer. John helped me with some laundry and I started to pack together my stuff. I was "overloaded" and so John offered me to send one cardboardbox over to germany for me, with the next delivery. I included some DD cones, Stroker coils as well as some shirts and clothings. Everytime when I am in the states, I get in trouble with my luggage. Usually I buy anouther suitcase. At home I can open up a suitcase shop! 10 trips to the states so far, 8 new suitcases :) Around 11 pm I was so tired that I had to go to bed...


Day 43: Chicago Day 4 Valentines Day
Today was the same procedure than the days before. John went to work and I was sleeping long. Good way to share the days hu? Again at noon he picked me up and brought me to a pizza restaurant where we met to of his co workers. We had some thin good tasting pizza. The restaurant was decorated in a kind of "hunting style" and had some "animals" on the walls and around everywhere.



After lunch John cleaned his beamer in a car wash street. (right word???) It was a nice thing to watch your car going through the different stations of cleaning and drying. We have some of these over here too. Then we went back to the office where the internet kept me away from my work on th ereport :) Also I ws able to film the fishes today. Mike Stiers worked at his desk an I said hi. John showed me some prototypes and finally he found me sleeping and "enjoying life" on my desk and fired me, hehehe. That was my short employment at Maxxsonics. Just kidding of course...




Here my little photostory about my work at Maxxsonics :)



Around 5 PM we left ans today we went to the "Las Palmas", an authentic Mexican. It was Valentines day but John and Melinda dont make a big drama out of it :) I had a bad feeling first and dont want to disturb them on that evening, but they invited me (once again) to a great dinner. After the beef and chicken enchiladas (I took the half with me bc I was full) we watched some more TV and talked a bit. Then the day was over and I was pretty tired from all that eating...


Day 44: Chicago Day 5 Friday, Chicago Downtown and the Maxxsonics Party
Today was the day of the last party of my trip. The final party with Maxxsonics and friends! John reserved a room in a sports bar and about 10-12 people tried to make it to the place. But before we wanted to see Chicago Downtown and some places. I was at this peer three years ago so that we can let that out. John wanted to show me the millenium park with the "bean" what is a "cloud" actually. A piece of artwork what is polished and the whole invorenment is reflecting. You also can walk around and underneath it. First another visit in the office. I filmed the quarium another time and found Mike working on a demo display. Also I did some "workout" with a HiFonic MaXXimus. :) John tried to get entrance cards for an auto show, but honestly I was glad that it didnt work out.l I see cars the whole year :) So we started the trip to the city.



We arrived at the center where the "cloud" was. Its about 36 feet wide and 12 feet wide and tall. It was shining and reflecting that it was really interesting to watch all the different forms what showed up from the different angles. Of course I made some snapshots and some movie footage.



It was damn cold and windy. What a wonder, Chicago IS the windy town :) We went to the library and had a cup of hot chocolate. There was a photo exhibition but we hadnt enough time to observe it completely. Traffic in and arround Chicago is insane. We needed 1.5 hours for the about 20 miles to Johns home. Not too bad, bc John and I can talk like radios and so it never was boring hehehe. But we made it back home in time and had some minutes rest before we left to the party. I wish I can come back to Chicago one day to see more of the city. But then not in wintertime please...

At 6pm we started our way to the club.Not far away, but we needed some tries before we found the "fox and hound" club. One after the other, the people arrived. These people made it to the party : Mike Stiers, Iggy, Kim und Alex (Alemuthafuckinjandro), Shannon (Train) und Johnny(KO12), Ben Holt (of Kinetik), Jeff Brown (DTBrown), ThommyK90 und "LilBums1". And of course: John and Oki :) (if I left some out or messed up the names, please inform me and I will correct it, sorry then)



We had some really nice hours of serious fun and good talking. I enjoyed every second. We played pool (and I entertained all with my Oki style play) and had some finger food what was donated by Maxxsonics!






Shannon (Train in the forum) was interested in my weight reducing tips, hehehe. Also I had to explain what a "Wiener Schnitzel" is. Ben Holt tried to explain, bc he was a few times here in Germany, but he mixed it up with some kind of beef sausage (Currywurst) hahaha. In the states there is a fast food chain with name "Wienerschnitzel", but I never saw one there. I dont know to explain what it really is (Pork with a crust of bread) usually served with french fries and salad. Just watch the picture and see how it HAS to look like :)






At around 11 PM the party was coming to the end and we made a final picture with all of us. Ok, I have to explain something before it comes to misunderstandings. The pics with some guys "sniffing" white powder, are just arranged PICS! :) There were no drugs involved. The white powder was from Johns Billard Queue :)






It was really fine to see sooo many good old friends (and meet new friends) during my long trip. And its always nice to see them "outside" of dB Drag, bc there are always more thing in life. But dB Drag connects us all together, and that is great. So we said bye bye to everybody and drove back home. Tomorrow it was planned to have the "Groundhog Day", or better "Oki Day". Bc the filming location of the movie with Andie MacDowell and Bill Murray was not the original Punxsutawney/PA, it was Woodstock/IL where John was born and raised! So we want to go there tomorrow and film a little homage to this great movie what I still watch every year. I extra made a kind of storybook what involved John and Mike in the scene where the insurance agent "Ned Ryerson" (played by Mike) got slapped at the corner where the bum (John, hehehe) is standing. Of course I will be Bill Murray, aka Phil Connors. I didnt find a matching girl what can play Andie MacDowells character. Afterwards, I think Shannon could have done that! Then I would have included the every mornings kiss scene LOOOL... (Maybe next time?).


Day 45: Chicago Day 6 Saturday: Okiday 1
I looked forward to this day for a long time! On my camera I extra had the original scenes from the movie what I watched over and over to redo the scene authentic. Looked for camera angle and so on. John should be the bum, Mike should be Ned, and me Phil. But unfortunately Mikes daughter was very ill. So he couldnt join us this day, what made me sad, but its 100% understandable! Also the weather was not like in the movie. There it was very cloudy, and we had sunshine today. On the afternoon we 3 started the tour...



It was about 20 miles northwest from Johns house. As said, John was born and raised in Woodstock/IL. He spent much time in the middle of the village where the biggest part of the movie plays. Its called "gobblers knob" what is autside the town in the original place where "they" pull out the "rat" every february 2nd to find out if the weather stays cold or not, depending if the "rat" sees his shadow or not :)



We entered the town on the same road as the original movie people back in 1993! We crossed the railroads and then it started to rain. What a pity. Soon we found "Neds corner" and I gave Melinda the camera. I stupid forgot the tripod at home, grrrrrrr... So all was a kind of hurry up and jumping around and reminded no way at a professional shooting. I was so upset, but I didnt want to show it, bc I didnt want to ruin the situation. And also I was kind of glad to be there anyways. But John was funny, he took on an old jacket and an old hat. He looked really "bummy" :)



The traffic was changed also from the movie. So the cars came from the other direction now, what made it harder to stay on plan. Well, most itme you cannot have it 100%. So we tried the scene 4 or 5 times until we walked around a little in the heart of the town. You were able to see signs what reminded on the ground hog day everywhere. Then we went to Angelos restaurant where Bill Murray was one morning and talked to the people. John mixed that up with the restaurant where they sat everyday for breakfast. THAT was close to "Neds corner". And the original restaurant was closed, forever :( But we went into the other and I had a BBQ Burger there and saw some pictures on the walls from the movie making. I wasnt that brave to film everthing, didnt want to bother the people too much. But I liked the day a lot and for me this movie is a special movie for me, forever...



After warming up and having some food we left. Our stay was for about 2 hours and I saw a lot in "Punxsutawney/PA", or better Woodstock/IL. Who knows, maybe I will visit the original town one day. For this year I was really close, and even close on the date. Too bad that my strong time shedule didnt allow it...



After all that I drove with John to a supermarket in the evening. I tried to get me some Breathsavers Spearmint, what I became addicted too during the trip :) Also I want these "peeps" the little sugarfoambirdies. At least I got them. They had em there in all color variations. But no Breathsavers at all! Back home I started to upload the video footage and observe it. Unfortunately a lot went wrong. The camera angle, my movings, the weather. But at least I tried it. Funny thing was, that John uses the video on demand service and we choosed the Ground Hog movie from the database so that I can watch it in the night! Never saw it with the original voices, just our german translation, what is great also. And they cut some minutes out from the original US version. That was a nice feature what helped me over my "failures" of the day! And tomorrow, last sunday before I leave, there was absolutely nothing planned. Lets see what happens...


Day 46: Chicago Day 7 Sunday: Okiday 2
I had a long sleep again, we had breakfast together and just started easy into the day. I already had packed some things and tried to eat up the rest of my food what was still there (I hate to throw food away). Melinda had to work out some things this sunday, what was unexpected for her and so we decided not to disturb her at home. Weather was RIGHT (cloudy) outside and what better could we have done than going back to "Punxsutawney"? Just like in the movie it should happen AGAIN (but hopefully not again and again and again...). John called Mike in the hope that his daughter feels better now, but unfortunately she didnt. So we both started the trip alone and before I grabbed my TRIPOD!Good that I found some errors the evening before, so I was able to make some new arrangements to make a new, better shot!



Back in town I immediately started to setup everything. Bc we knew the area now, it was more fluently and we knew what to do. A few takes later everything was over. I must say I want to do another version one day, bc my movings are too fast and the camera angle should be different also, but I am pretty satisfied with what we got on the 2nd day. I really can live with THAT! See the pics below what I mean.




Here the result of day one, not sooo... :


Das hier ist schon viel besser, ginge aber noch besser: And here the result of day two, thats pretty ok, not 100% exact, but ok:


Today we didnt spend that much time there. Just some more shots in the sunlight. Then we drove back to see if we can find some Breathsavers anywhere? Cannot be that they were sold out suddenly when I need them. On our way there was a "White Hastle" also. Well, what should I say? I asked John if it was ok when we stop there and have a "big meal", the last time for me for the next years, and after my self tests. Kind of addicting this stuff is! He oked it and we ordered für over 20 Dollars of this stuff. I was so full. John looked better than me hehehe. We ate up EVERYTHING and then I took some pictures from the restaurant. So the older waitress came and asked if we spy out them, but I said, if I want to spy out, I wouldnt to it so that they dont recognize it :) I am "just" a fan of White Castle (am I really?) and I told her about my trip to Nashville (where she may never was and never will be) where White Castle and Krystals exist close to each other. She didnt know that hehehe. But she found it funny...



For a last time we stopped at Johns office and drove back home then. I loaded up the pics of the day and compared the results to my satisfaction. Then I packed more of my luggage. Of course AFTER the dinner, what still took place after the White Hastle mess. Wild Rice with Chicken. What a contrast programme in one day ;) So the last night at "Mindy and John" was there. It was a really interesting and great time with both of you and I thank you again veeeery very much. Whenever you want to visit me here at home, youre welcome! (what counts for everybody who want to visit me!) Such a great hospitality from all of you (during the trip) makes me feel at home and staying with real friends. It even feels like beeing a far relative sometimes! THANKS AGAIN TO ALL OF YOU!


Day 47: Chicago Day 8, Monday: Back to Good old Germany
The last day for me started at around 9AM. I put the rest of my belonigngs together and was ready. John picked me up and drove me to the airport at around 11:30. I enjoyed this time with him and his wife a lot. On the way, we were able to find some Breathsavers finally! So the last thing on my todo list was checked! But the weight of em (3 big packs) should cause some more trouble for me...



So I said bye to John and went straight into the line for check in. The sooner the better. And they put me directly into the wrong line where I stood around for 15 minutes or so. For what do I put people there what help the travellers? But I was able at least to weight my luggage. And as usual, it was too heavy. So I had to put out the Breathsavers again, put out my new Bass Race jacket and wear it, and change some things to fit the right limits for the baggage. ALWAYS the same! Good thing was, that I found a much shorter line for my flight what gave me more time to find my gate. It was a loooong way as usual at this airport.



The plane wasnt very full. I was in the middle section and we had a free seat between each passenger. So it is really easy to travel. Watched the phantasie movie with Dustin Hoffman and later Michael Clayton. Not a good idea! Should have watched Clayton first. Bc its overlength and 10 minutes before the end, they stopped the movie bc we were preparing for landing! MAN I HATE THAT! Cannot watch a movie without seeing the end. And before it will come into our cinemas, I have to wait a few weeks. HMPF. Great move again Oki...



At least the food was ok this time. Got meatloaf, what I never had before on a flight. Always "Chicken or Paaastaaa???" Sometimes a beefsteak what is not the best choice in a plane :) Or Salmon, hehehe. We had backwind and saved 20 minutes. My parents watched the TV text and saw that I landet. Getting out of the plane and collecting the luggage was very easy this time. Checking customs is always easy for me, bc I have nothing to declare. So my parents picked me up at 6 AM and I was on the way back home!






It was a beautyful sunsrise and I made at least 200 pictures of that. And finally I saw the shape of my little hometown after almost 7 weeks. Got a little cup of coffee first and then stepped onto my weightscale. SHOCK!!! 80,2 Kilos!!! I started with 73,5! Thats almost 14 pounds more!!! What the heck did Johns scale show me? Well, I was tired and didnt care much. It will be gone in 5-6 weeks and I enjoyed every single damn calorie! So I went to bed at around 8 AM, and stood up at 2 PM again, like nothing else happened than sleeping long. Jet lag? What the heck is that? :) I AM BACK HOME!!!


Final thoughts:

Thats it my friends. I hope you enjoyed the report. Let me know your positive feedback and keep the negative for yourself, LOL J/K. The next ÜSA trip, IF IT WILL HAPPEN, is not before 2010. But I plan it HUGE. Maybe 10-12 weeks or so. Also I want to stay longer at one place. Its sure fun to travel a lot, but after a few weeks, it reminds more on a rush from place to place. Youre always in a hurry, you see a lot, but cannot really enjoy it. And I must find a solution to travel (Amtrak or Greyhound???). A rental car for such a long time is not possible. Maybe I can count on some of your hospitality again, and I just can make you all the offer to stay at my house when you visit Germany. Even for a week. Some did that in the past (Ray Choy, George Wu(ATOMIC), John Borges(ZAPCO) for example). So its easy and relatively cheap for all of us to travel the world and spend a great time together. Thats one of the biggest benefits we got through dB Drag. Titles, records and trophies are just on the side. Believe me, THAT is the real thing. We all can help making our world better, and also the big dB Drag family. So thank you all again and see you next time! Of course I will write a report again, if you want it. That is the smallest thing I can give back to all of you, even if it takes a little longer sometimes :)





END OF STORY!
To the 1st part of the ÜSA 2008 trip (Day 1-24)

Back to REALSQPL


Commendations or complaints? Please E Mail to Michael/TheBigOki